Biography
Bud Abbott and Lou Costello are one of the most famous and beloved comedy teams in history. Their unique chemistry and superb comedic timing have never been surpassed. In a partnership that lasted 21 years they conquered every facet of show business, including burlesque, radio, Broadway, motion pictures and television. Their classic "Who's On First?" routine is considered to be the greatest comedy sketch of all time. They were among the Top Ten box office stars eight times between 1941 and 1951, and ranked No. 1 in 1942. During a five-week cross-country tour they sold an astonishing $85 million in War Bonds (about $1.4 billion in 2021 dollars). They each have three stars on the Hollywood Walk of Fame.
Abbott and Costello were the subjects on A&E Biography.
Lou Costello was the subject on This Is Your Life in 1956:
---
William Alexander (Bud) Abbott was born into a show business family on October 2, 1897 (not 1895) in Asbury Park, New Jersey. His parents met while working for the Barnum and Bailey Circus; his mother, Rae, was a bareback rider and his father, Harry, was a concessionaire and forage agent.
In 1902 Harry became a road manager for shows on the preeminent burlesque circuit, the Columbia wheel. ("Wheel" shows rotated through three or four dozen affiliated theaters over a nine month season.) Harry worked for Columbia until about 1925. During the summer, when wheel shows were on hiatus, Harry worked at Dreamland, the last and the grandest of the three large, iconic Coney Island amusement parks. When they were old enough, his sons Harry Jr. and Bud joined him at Dreamland.
In 1917 Harry Sr. got Bud a job as the assistant treasurer of the Casino Theater, a Columbia wheel house, in Brooklyn. (Bud was 19, not 16 as has often been misreported.) A year later, while he was treasurer of the Casino Theater in Washington, D.C., Bud met and married Betty Smith (née Jennie Mae Pratt), a burlesque dancer, singer and comedienne.
Bud worked his way up in burlesque to road manager, producer, and finally performer by 1924. By then the Columbia circuit was behind the times and in decline. Bud and Betty joined a mass exodus of talent to the Mutual Burlesque Association. Mutual, which took inspiration from modern Broadway revues, dominated burlesque during the Roaring Twenties. As his stature grew, Bud teamed with veteran comics and became one of the top straight men in the business.
Louis Francis Cristillo was born March 6, 1906 in Paterson, New Jersey. A gifted athlete, he excelled in basketball and was the city's Foul Shot Champion for three consecutive years. When he was 9, he won a Charlie Chaplin lookalike contest, setting him on his path to becoming a comedian.
Costello hitchhiked his way to Hollywood in 1927 to break into movies, but only found work as a laborer or extra. He can be spotted sitting ringside in the Laurel and Hardy film The Battle of the Century (1927). His athletic skill also led to occasional stunt work, notably in The Trail of '98 (1928), where he jumped out of a second-story window doubling Dolores Del Rio (and broke his ankle).
On his way back East in the summer of 1928, Lou was stranded in the Midwest. He became a burlesque comedian with a tiny stock company at the Empress Theater in St. Joseph, Missouri. After a few months he returned to Paterson, and in 1929 he was signed by the Mutual wheel for the fall season.
Mutual collapsed two years later during the Depression and was replaced by stock burlesque, where performers remained in the same theater for weeks or toured on modest stock circuits.
Abbott and Costello Meet
The most famous purveyors of stock burlesque were the Minsky brothers, who operated several theaters in New York City. Their showplace was the Republic Theater on 42nd Street. (Today it is the New Victory.) Abbott and Costello crossed paths a few times while working with other partners for the Minskys and other stock burlesque impresarios. In January 1934 Lou married Anne Battler, a burlesque dancer he met months earlier in a show headlined by legendary strip tease artist Ann Corio.
Abbott and Costello's decisive encounter was in 1935 at the Eltinge Theater, which was across the street
from the Republic. Lou's straight man was ill, and Bud, there with another comic, filled in. Other performers, noting how well the boys meshed, encouraged them to team up. (In 1998, when the old theater was painstakingly moved 168 feet to make room for a new entertainment complex, the site's developer commissioned two giant balloons of Bud and Lou and rigged them to appear as if they were pulling their alma mater down 42nd Street.)
Abbott and Costello made their partnership formal at the beginning of 1936. To build their act, they adapted and expanded upon numerous old burlesque sketches including their signature routine, "Who's on First?" They are undoubtedly the greatest comedy team to emerge from burlesque. It was a unique and demanding training ground for other comic legends, including W.C. Fields, Fanny Brice, and Phil Silvers.
By 1936 burlesque was dominated by the strip tease and was banned in New York in 1937 and restricted in other cities. Bud and Lou worked in the Steel Pier Minstrels in Atlantic City in the summers of 1936 and 1937, then toured the east and Midwest in a stage show called "Hollywood Bandwagon." Bud and Lou performed their "Drill Routine" and "Who's On First?," which, according to Variety, was the big hit of the show.
In February 1938 they received their first national exposure on Kate Smith's radio show. "Who's On First?" was first performed for a national audience on the program on March 24, 1938. The boys stayed with the program as regulars for two years.  This led to roles in the 1939 Broadway musical "The Streets of Paris," for which they received rave reviews and attention from Hollywood.
Abbott and Costello in Hollywood
Universal Pictures signed the team for the musical One Night in the Tropics (1940). Cast in supporting roles, Abbott and Costello nonetheless stole the show with several classic routines, including an abbreviated version of "Who's On First?" Universal quickly signed them to a two-picture deal, and their next film, Buck Privates (1941), secured their place as movie stars and led to a long-term contract. On Dec. 8, 1941, Abbott and Costello's hand and footprints were enshrined at Graumann's Chinese Theater on Hollywood Boulevard. They are still there today.
Bud and Lou were among the most popular and highest-paid entertainers in the world during World War II. Between 1941 and 1951 they were voted among the nation's Top 10 Box Office Stars eight times, and ranked No. 1 in 1942. They were the first Universal stars and the first comedy team to rank in the Top 10 since the list was introduced in 1932. For all her success at the box office between 1937 and 1940, Deanna Durbin, Universal's biggest star, never appeared on the list.
In 1942, at the height of their popularity, the team visited 78 cities in 34 days to sell War Bonds, and raised $85 million (the equivalent of $1.4 billion today).
The duo made 36 films between 1940 and 1956, by far the most features by any comedy team. Among their most popular comedies are Buck Privates, Hold That Ghost, Who Done It?, Pardon My Sarong, The Time of Their Lives, Buck Privates Come Home, Abbott and Costello Meet Frankenstein, and Abbott and Costello Meet the Invisible Man.
It is widely acknowledged that the team's films helped keep Universal Studios solvent during World War II and the early 1950s. For eleven years they were the studio's single greatest source of income. Their films were the only Universal releases to appear on Showman's Trade Review list of Leading Productions of 1941, 1942, 1943 and 1944. After a two-year lull, they returned to the upper ranks of the Top 10 Box Office stars in 1948, 1949, 1950 and 1951. Again, they were the only Universal stars on the list. In 1999 Universal named an office building on the lot after them.
Abbott and Costello on the Air
After leaving the Kate Smith program, the boys appeared on radio throughout the 1940s. They hosted a summer replacement series for Fred Allen on NBC in 1940, then joined Edgar Bergen and Charlie McCarthy on the Chase and Sanborn program in 1941. On October 8, 1942 the team launched its own weekly show on NBC. Sponsored by Camel cigarettes, the half-hour program frequently ranked in the Top 10 and peaked at No. 6 in 1944. The team moved to ABC in 1947 with a pre-recorded program and also hosted a children's radio program on Saturday mornings. In 2005, Abbott and Costello were inducted into the National Radio Hall of Fame in Chicago.
Early in 1943, after a five week tour of military bases on the East Coast, Costello had an attack of rheumatic fever and was bedridden for several months. Two movies were postponed, and the team's popular radio program went on hiatus. Then, on the day Lou was scheduled to return to the team's radio show, his infant son, Lou Jr., accidentally drowned in the family pool. The baby's first birthday, Nov. 6, was just days away. Lou had asked his wife Anne to keep Lou Jr. up that night so the baby could hear his father on the radio. Lou went on with the show, saying, "Wherever he is tonight, I want him to hear me." The audience was unaware of the tragedy until the end of the show, when Bud explained the tragic events of the day and how Lou epitomized the phrase "The show must go on." People who knew Lou said that he was never the same after the loss of his son.
Before the baby's death, while Lou recovered, he and Bud planned to fund and build a rheumatic fever hospital and research center. After the baby drowned, they decided instead to fund and build the Lou Costello Jr. Youth Center in East Los Angeles. Dedicated in 1947, it continues to serve that impoverished community today.
Television
On January 7, 1951 the team made its national television debut on the "Colgate Comedy Hour," a live variety show featuring rotating hosts such as Eddie Cantor, Bob Hope, and Martin and Lewis. The boys appeared on the program twenty times between 1951 and 1955.
In 1952, they launched their own half-hour sitcom, The Abbott and Costello Show, in syndication on local TV stations across the country. In 1998 "Entertainment Weekly" praised the series as one of the "100 Greatest TV Shows of All Time." In 2007, "Time" magazine selected it as one of the "100 Best TV Shows of All Time." Jerry Seinfeld has stated that "The Abbott and Costello Show" was an inspiration for his own sitcom. The Abbott and Costello Show ran from 1952 to 1954, then found long life in reruns over the next few decades. The episodes were released on VHS in the early 1990s and later on DVD. A 4k restoration of Season 1 was released on Blu-ray in 2021. Season 2 is scheduled for 2023.
Who's On First?
"Who's On First?" is considered to be the greatest comedy routine of all time. In 1956 a gold record was placed in the National Baseball Hall of Fame museum in Cooperstown, New York. Video of the routine, taken from the team's feature film The Naughty Nineties (1945), has played continuously at the Hall since 1967. Abbott and Costello performed "Who's On First?" several times at the request of President Roosevelt. The routine was an integral part of the Oscar-winning film Rain Man (1988), starring Dustin Hoffman and Tom Cruise.
The Split
After peaking again in the early 1950s, Abbott and Costello's popularity waned. There were several reasons for this. Each year they released two new films, while Universal re-released some of the team's earlier hits. Add to this a weekly TV series plus regular live appearances on the Colgate program, and the team was not only overexposed but was competing with itself. Then, with the ascendancy of Martin and Lewis, Bud and Lou were looked upon as the old guard. With fewer opportunities as a team, and struck with big tax bills by the IRS, Abbott and Costello split up early in 1957 after 21 years, 35 films and several hundred radio and TV appearances.
Lou made several appearances on The Steve Allen Show, and did an episode of GE Theater titled "The Blaze of Glory." In 1958 he made his TV dramatic debut in an episode of Wagon Train called "The Tobias Jones Story." He also headlined a Minsky show in Las Vegas.
Not long after completing his only solo film, The Thirty-Foot Bride of Candy Rock, Lou died of a heart attack on March 3, 1959. He was three days shy of his 53rd birthday. He and Anne had been married for 25 years. Anne passed away nine months later. Daughters Patricia (Paddy), Carole, and Chris and numerous grandchildren survived them. Carole died in 1987.
Bud attempted a comeback in 1960 by teaming up with comedian Candy Candido. Although the new act received good reviews, Bud quit, remarking, "No one could ever live up to Lou." The following year Abbott made his solo debut on an episode of GE Theater titled "The Joke's On Me."
In 1966 and 1967, Hanna-Barbera produced 156 five-minute Abbott and Costello cartoons. Bud, hampered by the lasting effects of a stroke two years earlier, supplied his own voice, while Stan Irwin imitated Lou. The cartoon series wasn't the first time that Abbott and Costello were immortalized in animation. During the height of the team's popularity, the Warner Bros. animation unit produced three cartoons that featured the pair as cats or mice. The first of these cartoons, A Tale of Two Kitties (1942), also introduced the character Tweety Pie. The boys were mice in Frank Tashlin's A Tale Of Two Mice (1945) and Robert McKimson's The Mouse-merized Cat (1946).
Bud Abbott died of cancer at the age of 76 (reported as 78) on April 24, 1974 in Woodland Hills, California. He and Betty were married for 55 years. The couple adopted two children: Bud, Jr. in 1942, and Vickie in 1949. Betty died in 1981 just shy of her 80th birthday. Bud Jr. died in 1997.
Honors
Although they are both gone, Abbott and Costello continue to inspire recognition by their industry and their fans.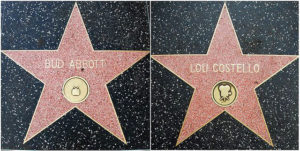 They are among only a handful of entertainers to be honored with three stars on the Hollywood Walk of Fame: Bud and Lou each have individual stars for their work in radio, motion pictures and television.
Numerous books have been written about the team including Who's On First?, The Abbott and Costello Book, Bud & Lou, Lou's on First? (by daughter Chris), Abbott and Costello Meet Frankenstein: The Classic Film Script, Abbott and Costello in Hollywood, Buck Privates: The Classic Film Script, and Hold That Ghost: The Classic Film Script.
In 1978 a TV movie was made starring Harvey Korman and Buddy Hackett as Abbott and Costello.
The Official Abbott and Costello Fan Club was formed in 1986 and continues to welcome new members today.
An Abbott and Costello commemorative postage stamp, designed by famed caricaturist Al Hirschfeld, was issued in 1991.
In 1992, the city of Paterson, in conjunction with the Lou Costello Memorial Association, erected a statue of Lou in the newly named Lou Costello Memorial Park in the city's historic downtown section.
In 1994 comedian Jerry Seinfeld hosted the television special, Abbott and Costello Meet Jerry Seinfeld. The show was NBC's top-rated special that year.
Bud and Lou were profiled on the long-running A&E series Biography in 1996. The episode was appropriately titled "Abbott and Costello Meet Biography."
In 1998, Entertainment Weekly selected The Abbott and Costello Show as one of the "100 Greatest TV Shows of All Time."
In 1999, TIME magazine named "Who's On First?" as the Best Comedy Sketch of the 20th century. An early radio recording of the routine was placed in the Library of Congress' National Recording Archives in 2003. In 2005, the line "Who's On First?" was included among the American Film Institute's list of 100 memorable movie quotes.
In 1999, two asteroids located in the main belt of asteroids between the orbits of Mars and Jupiter were named "Abbott" and "Costello." Each takes nearly four years to orbit the Sun. Fittingly, Costello's orbit is the more circular of the two.
In 2000 the team's most popular film, Abbott and Costello Meet Frankenstein (1948), ranked 56th on the American Film Institute's survey of the 100 Funniest Comedy Films of all time.
The cable channel American Movie Classics (AMC) ran a 30-hour marathon of Abbott and Costello films beginning New Year's Eve, 2001. It was called "Who's On the First?"
The Library of Congress selected Abbott and Costello Meet Frankenstein to the National Film Registry in 2001.
Lou Costello's signature derby from the team's classic TV series was donated to the Smithsonian in 2005.
In 2005, the City of Paterson renamed Madison Street, where Costello was born, "Lou Costello Place."
The centennial of Costello's birth was celebrated in Paterson on the first weekend in March, 2006. In June, the Fort Lee (New Jersey) Film Commission held a centennial film retrospective at the Fine Arts Theater in Beverly Hills.
In March 2006, Bud Abbott received a posthumous Lifetime Achievement Award at the Garden State Film Festival in Asbury Park.
In May 2006, Abbott and Costello were among 30 artists enshrined in the New Jersey Walk of Fame outside the New Jersey Performing Arts Center in Newark.
In September 2007, TIME magazine selected The Abbott and Costello Show as one of the "100 Best TV Shows of All Time."
In April 2008, Lou Costello received a posthumous Lifetime Achievement Award at the Garden State Film Festival in Asbury Park.
In May 2009, Abbott and Costello were enshrined in the New Jersey Hall of Fame.
In 2013 Entertainment Weekly again ranked The Abbott and Costello Show 28th on a list of the "100 All Time Best TV Shows."
In 2019, Shout! Factory released all 28 of the team's Universal films on Blu-ray.
In 2021 the first season of The Abbott and Costello Show was issued in a 4K restoration on Blu-ray.