Television
Abbott and Costello made their TV debut on July 20, 1939 on a local program broadcast in New York. (It's not known how many of the estimated 500 televisions in the city tuned in.) The boys made their national TV debut on January 7, 1951 hosting a live, big-budget variety show called the Colgate Comedy Hour. Before that, Costello appeared on Texaco Star Theater and other shows. (These were solo spots because their contract with Universal prohibited TV appearances as a team until 1951.)
The Colgate Comedy Hour premiered in 1950 with a roster of rotating hosts including Eddie Cantor, Bob Hope, Martin and Lewis, Donald O'Connor, Jimmy Durante, and Fred Allen. When Allen left the show after only a couple of turns, Bud and Lou replaced him. The team made 19 more appearances through 1955.
Virtually every classic Abbott and Costello routine was performed as it was meant to be—in front of a live audience. It's an eye-opener to anyone who has only seen the boys' movies or filmed TV series, The Abbott and Costello Show. Bud and Lou ad-lib, break up, digress, and occasionally flub their lines. It's the closest we'll ever get to seeing the team in their natural element—burlesque.
Here's an excerpt:
Many of the boys' Colgate episodes have been pirated and released on DVD. Probably the most complete set, with 14 episodes and other material, is this one. The rarest episode had been the November 1, 1953 show, when Costello was unable to appear due to illness. Bud hosted the program, introducing guests and clips from the team's previous appearances, then Dean Martin and Jerry Lewis took over the second half of the show. This episode is including on the Blu-ray Abbott and Costello Rarities.
For an even more candid and unscripted glimpse of Abbott and Costello on live TV, check out This Is Your Life, Lou Costello, which is linked here and included on this 3-DVD set.
"The Abbott and Costello Show"
(The series was recently scanned in 4k and restored for Blu-ray release.)
The Abbott and Costello TV series was selected by both Entertainment Weekly (1998) and Time magazine (2007) as one of the 100 Best TV Shows of All Time. In 2013 Entertainment Weekly ranked the show 28th on its list of the 100 Greatest TV Shows of All Time.
Jerry Seinfeld has said that The Abbott and Costello Show inspired his own sitcom. "That show was definitely the most important ancestor of [our] show," Seinfeld said.
The series debuted in the fall of 1952 and lasted two seasons (a total of 52 episodes). It was not a network program but was sold into syndication by MCA, Inc., to about 40 local stations across the country. As a result, it was broadcast on different days, different time slots, and in different order in different cities. The first station to air the program was KTTV Channel 11 in Los Angeles starting on Tuesday, Oct. 7,  at 7:30 p.m. The show began running on WCBS Channel 2 in New York on Friday, December 5 at 10:30 p.m., and set a record for syndication fees in New York. Since WCBS is the network affiliate in New York, earlier reference works erroneously presumed  that the show was carried nationally on that network starting on that date. Similarly, second-season episodes (1953–54) were telecast locally in New York on NBC's flagship station, WNBT (later WNBC), but not carried on that network, either. The only time the show was broadcast on a network was when CBS repeated first-season episodes as part of its Saturday morning schedule in 1954-55.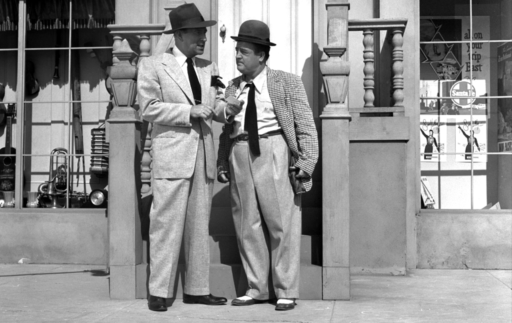 The first two establishing episodes were produced by Alex Gottlieb, who had produced seven of the team's earliest films and, more recently, their two independent color films, Jack and the Beanstalk and Abbott and Costello Meet Captain Kidd (1952).
Jean Yarbrough, who directed every episode of the series, produced the show thereafter. (Pat Costello, Lou's brother, is listed as the producer, but his function was nominal.)
Eddie Forman, head writer on the team's radio show, wrote the first five TV episodes, after which co-star Sidney Fields wrote the remaining 21 shows in the first season. Second season episodes were scripted primarily by Clyde Bruckman (15 shows), who had collaborated with Buster Keaton and directed Laurel and Hardy's The Battle of the Century (1927), and Jack Townley (10 shows), a former child actor turned screenwriter. Sid Fields received a co-writing credit on five episodes, including one with Costello.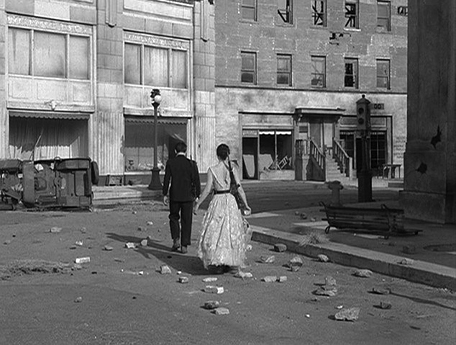 The first season was filmed at Hal Roach Studios in Culver City, where the team also made Jack and the Beanstalk. The second season was shot at Motion Picture Center Studios (today Red Studios Hollywood), where they had made Abbott and Costello Meet Captain Kidd. (That studio became Desilu-Cahuenga Studios soon after, and I Love Lucy and the Danny Thomas and Jack Benny shows were filmed there.)
The Abbott and Costello series thrived in reruns for the next 25 years. In 1986 all 52 episodes were restored by archivist Bob Furmanek. In 1992, Shanachie Home Entertainment began releasing a 13-volume collection of the episodes on VHS, then on DVD in 2003. Each volume contains four complete episodes—two from the first season and two from the second.
In 2006, Passport Home Video released each season in two 5-DVD boxed sets. Both releases included rare Costello home movies and interviews with Lou's daughters, Paddy and Chris.
In 2010, E1 Entertainment released the boxed set The Abbott and Costello Show: The Complete Series Collector's Edition. All 52 episodes were "digitally re-mastered" (i.e., "tweaked"), and several bonus features from the Passport sets (rare home movies, interviews with Lou's daughters, and the short 10,000 Kids and a Cop) were included. Additional features include a 44-page booklet; a 50-minute "highlight reel" of classic routines; and the 1978 compilation Hey Abbott!, hosted by Milton Berle. All 22 hours of material in this boxed set were subtitled, too.
In December 2021, ClassicFlix and Three-D Film Archives released a Blu-ray of the first season shows scanned for the first time in 4k from the original camera negatives and fine grains. The second season is due in 2023. Read more here.
Other TV Appearances
After Abbott and Costello parted ways in 1957, Lou made 10 appearances on The Steve Allen Show. He also did an episode of GE Theater called "The Blaze of Glory" with a pre-Lost in Space Jonathan Harris (below), and an episode of Wagon Train called "The Tobias Jones Story."
In 1961, Bud Abbott played the agent of an insufferable comic (Lee Marvin) in an episode of GE Theater called "The Joke's on Me."
Here are excerpts:
Abbott and Costello Cartoons
Bud had a stroke in 1964, and rehabilitated for a few months at the Motion Picture County Home and Hospital. With some difficulty, he voiced his own character in a series of Hanna-Barbera Abbott and Costello cartoons produced in 1966-1967. (Stan Irwin impersonated Lou.) These have not appeared on TV in decades and are yet to be released on home video.