Fan Club
Welcome to the Official Abbott and Costello Fan Club! This page will answer many of your questions.
The fan club was founded in 1986 by Ron Palumbo to commemorate the 50th anniversary of Bud and Lou's teaming in burlesque. (Ron co-authored the definitive Abbott and Costello book, Abbott and Costello in Hollywood, and is the author of Buck Privates: The Complete Film Script and Hold That Ghost: The Complete Film Script.)
The club has approximately 3,000 members around the world, with the largest concentrations of fans in New York, New Jersey and California.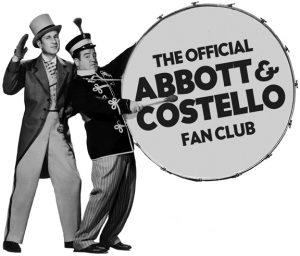 As an Abbott and Costello fan you've already benefited from the Fan Club. When the club started over 35 years ago, only five Abbott and Costello movies were available on home video. Club members successfully lobbied Universal and MGM to release every Abbott and Costello film on home video. By providing a ready market the club has inspired other companies to issue the boys' TV series on home video as well as posters, T-shirts, dolls, and other collectibles. Through our efforts, the U.S. Postal Service issued a commemorative Abbott and Costello postage stamp.
We have plans to do more. We think Bud and Lou deserve honorary Academy and Emmy Awards. By joining the club, you can help us achieve these and other goals.
Membership in the fan club includes a subscription to the club journal, Abbott & Costello Quarterly. Over the years the Quarterly has featured interviews with Bud and Lou's family, friends and co-workers, including Lou's brother, Pat; Bud's sister, Olive; Bud Abbott, Jr.; Hillary Brooke; and Ann Corio, to name a few. The Quarterly has also included articles about Sid Fields; the team's live TV work; a detailed log of the boys' radio appearances; and more.
Recent Quarterlies have included articles about Bud and Lou's early lives and careers; Abbott and Costello's 1942 War Bond Tour; and the origins "Who's On First?," "Floogle Street," and many other classic routines. Each Quarterly is also packed with the latest news of video and DVD releases; movie screenings; collectibles; club news; rare photographs; and member letters.
To join, go to the Join Us tab (beneath the Fan Club menu tab) and select a membership level inspired by the "Who's On First?" routine. You can pay using your PayPal account or a debit or credit card.
Outfielder level gives you access to the four most recent issues on the Current Issue page and other exclusive online content for $10.
Infielder level gives you access to eight issues (four recent issues plus four  future issues) and other exclusive online content for only $17.
Manager level gives you all the benefits of the "Infielder" level, plus access to every back issue since 1986 (that's over 70 issues) for just $37.
After you've registered and received a confirmation email, use the Member Login tab beneath the Fan Club menu tab to sign in. Then you'll be able to access the Quarterlies and other bonus content using the sub-menus under the A&C Quarterly tab.
We look forward to welcoming you to the club!