Universal Pictures Home Entertainment will release one of Bud and Lou's best films, Abbott and Costello Meet the Invisible Man (1951), on Blu-ray on August 28 as a stand alone DVD and as part of a 30-film Universal Classic Monsters Blu-ray collection.
The film co-stars Arthur Franz, Nancy Guild (rhymes with wild), Sheldon Leonard, Adele Jergens, and William Frawley. Leonard had previously appeared with the boys in Hit the Ice (1943). Jergens later appeared in the A&C TV series episode "Amnesia," where she pretended to be Lou's lonely hearts pen pal, Agnes. Frawley had been in Bud and Lou's first film, One Night in the Tropics (1940). Later in 1951 he was cast as Fred Mertz in I Love Lucy.
Rocky Hanlon was played by John Daheim (as John Day), a boxer turned actor. He had fought Kirk Douglas in Champion (1949). Daheim told the Associated Press, "Costello took a knockout punch much better [than Douglas] because he knew what he was doing. He was knocked out 14 times before he decided to switch from boxing to movies."
Proceeds from the film's Los Angeles premiere benefited the Los Angeles Examiner's Fund for Wounded Veterans of the Korean War. Martin and Lewis, Lena Horne, Jerry Colona, Allan Jones, Janis Paige, Tony Curtis, and Joyce Holden were on hand at the premiere.
Meet the Invisible Man was released theatrically on March 7, 1951. Motion Picture Daily reported, "Laughter that got rolling within the first minute…rippled steadily along the first hour and then broke into crashing waves when Costello entered a boxing ring…with the Invisible Man alongside…This left no room for questioning why this comedy team winds up year after year among the top ten 'Moneymaking Stars'…"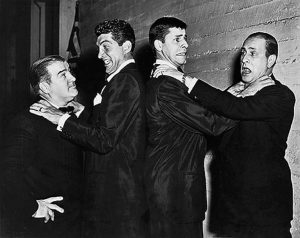 The film played the Capitol Theater in New York City with a stage show headlined by Gypsy Rose Lee. By coincidence, Costello references Gypsy in the film when Franz strips to become invisible; the line must have gotten big laughs at the Capitol.
The film made its TV debut late in 1965 and was first released on VHS in October 1992. It first appeared on DVD in 2004 in The Best of Abbott and Costello, Vol. Three, and again in 2008 in Abbott and Costello: The Complete Universal Pictures Collection. In 2014 it was a part of the three-disc The Invisible Man: The Complete Legacy Collection, as well as a 21-disc Universal Classic Monsters: Complete 30-Film Collection DVD set.