The 4k restoration of Bud and Lou's first color film, Jack and the Beanstalk (1952), was released on Blu-ray on July 18, and reviewers are unanimous: the modest, SuperCineColor fairy tale has never looked or sounded so good. Bob Furmanek and Jack Theakston spearheaded a fastidious reconstruction, transfer and clean up of the orphaned film in time for its 70th anniversary this year. It is another impressive achievement for Furmanek's 3-D Film Archive, which meticulously restored season one of The Abbott and Costello Show last year and Africa Screams (1949) in 2020.
This is a limited release, so order your copy now. And don't be fooled by any other releases claiming to be "restored"; this is the only one scanned in 4k and comes with a boatload of extras.
Like Africa Screams, Jack and the Beanstalk has long been in the public domain, and countless dupes ranging in quality from poor to mediocre have circulated for decades. Those days are over. Matt Hough wrote on Home Theater Forum, "If one has seen the previously available pathetic transfers offered for this film down through the years, then he can better appreciate the miraculous restoration work achieved by the 3-D Film Archive in bringing this movie back into a condition worthy of a Blu-ray release. Sharpness is quite keen now, and the Super Cinecolor has been made considerably more palatable with hues that are solid and consistent…and much closer to other more expensive color processes of the era."
Blu-ray.com wrote, "Given the condition of the element…this warrants a flat out 5 out of 5 for effort. [As] usual Furmanek and his team at 3-D Archive along with ClassicFlix have afforded this sweet little film an unexpectedly great looking restoration."
TheDigitalBits.com calls the restoration "astonishing. The color palette is lush with beautiful shades of red, green, and blue, while also allowing for surprisingly bold swatches of purple and orange—all of which bring the costumes and sets to radiant storybook life. The sepia-toned footage contains less overt grain than the color footage, but the transitions back and forth is never abrupt as the two are married together effortlessly. In short, it's the definitive presentation of the film going forward."
The audio has also been cleaned up considerably. Blu-ray.com observed, "The DTS-HD Master Audio 2.0 mono sound mix…has been wonderfully remastered to ensure excellent fidelity for these very old sound stems. Dialogue is always easy to understand, and it has been mixed with the songs and music. There are no problems with age-related hiss, flutter, pops, or crackle."
A quality restoration would be enough for most producers, but not for Furmanek. As usual, the Blu-ray is bursting at the seams with extras. Glenn Erickson at Trailers from Hell wrote, "The labor of love extends to the extras: excised scenes, background material, some words from the only surviving actor, a learned piece on the color process and a surprise guest appearance by the Creature from the Black Lagoon." Blu-ray.com calls it "a treasure trove of bonus material…which fans of the comics or the film itself will find most edifying." TheDigitalBits.com gives the extras a rare A+.
Here's the rundown:
Introduction by Chris Costello, Lou's youngest daughter (1:12).
Audio Commentary by Ron Palumbo, with comments from David Stollery and Chris Costello TrailersFromHell.com wrote, "A&C expert Ron Palumbo's audio commentary tops a tall stack of fun extras. With his comprehensive knowledge of the production Palumbo covers script scenes that were either cut or never filmed, and points out occasional flubs and anomalies. His bio information on the cast is so good, we feel as if we know them personally." Blu-ray.com calls the track an "entertaining and comprehensive examination of the movie even noting continuity and production gaffes…"
Imperfect Spectrum: A Brief History of CineColor (13:21) HomeTheaterForum calls Jack Theakston's featurette "a really fascinating short documenting some of the history of both the company and the process." Glenn Erickson said he "gravitated to Jack Theakston's in-depth featurette about the CineColor company and the SuperCineColor process. The workaround chemical engineering to make film emulsions record a full—if imperfect—color spectrum is nothing short of amazing." There is also a  Restoration Demo (3:10) showing footage before-and-after Furmanek and Theakston worked their magic.
TrailersFromHell.com also praises the "well-made, thoughtful featurettes on the music and the ad campaign. These aren't just talk items wallpapered with whatever visuals are available, but trips into a vault of vintage clippings, collector records and music sheets, and well-organized film clips." These are Climbing the Scales: The Music of Jack and the Beanstalk (9:18) featuring film score restorationist Ray Faiola (who also cleaned up the film's audio) discussing the original songs and music, and Beanstalk Ballyhoo (13:43), where Palumbo tracks the boys' 15-city publicity tour using publicity photos, newsreels and newspaper clippings.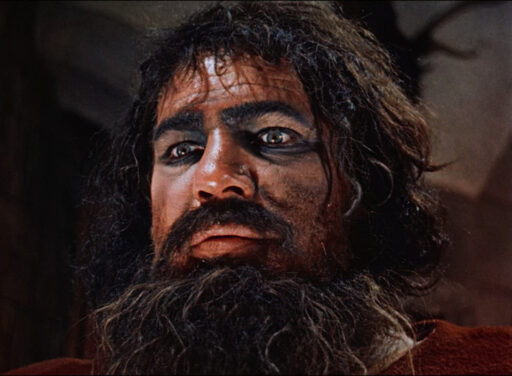 Cutting Down the Beanstalk (18:30) TrailersFromHell.com wrote, "Of special note is a selection of outtakes, some of which are cut scenes, described by Ron Palumbo. At about 7:40 into this Cutting Down the Beanstalk featurette is a sparkling transfer of the only surviving bit of original Eastmancolor negative for the movie. The improvement in quality is really impressive. Bob Furmanek found the clip in a stock footage library; he thinks the original negative for the film may have been cut up and sold as editiorial sound fill . . . (gulp)."
Behind the Scenes Photo Gallery with audio from the 1952 Children's Recording (61 photos in all – 7:02), and Publicity Materials Photo Gallery (139 in all – 12:15) A Jack and the Beanstalk children's record featuring Bud and Lou was released in tandem with the film and plays underneath the Behind the Scenes photo gallery. The Publicity Materials photo gallery includes the film's pressbook. Chip Ordway compiled both.
"Jack and the Beanstalk" Radio Sketch with Photo Gallery (6:16) Excerpt from a February 1945 radio show where Costello plays Jack in the fairy tale. This plays over a photo gallery compiled by Shane Fleming.
There are more extras not related to the film that are catnip for A&C fans:
"Who's on First?" – performed in December 1940 (4:05) This version is almost two minutes longer than the one in One Night in the Tropics (1940), which had been released a month earlier.
Abbott and Costello Meet the Creature on the Colgate Comedy Hour (15:01) A restored live clip from a February 1954 Colgate Comedy Hour where the boys meet Universal's latest monster—and the studio's first, with Glenn Strange as the Frankenstein Monster.
Abbott and Costello Trailer Rarities (41:04) features 18 original or reconstructed "Coming Attractions" previews, including the one for Jack and the Beanstalk.
Fireman Save My Child Trailer with Optional Commentaries (2:10) The trailer for Fireman Save My Child—a movie Abbott and Costello had to drop out of due to Lou's illness—features two optional commentary tracks, one by 3-D expert Mike Ballew and another with Ron Palumbo.
The Abbott and Costello Show: Season 1 – Mustard Trailer (2:47) If you haven't seen the 4k transfer of the boys' TV series, here's a great sampler.
The extras on this disc run longer than the film itself. Furmanek has said that there was virtually no room left on the disc for anything else, even if they wanted to. TrailersFromHell.com warns fans, "This one has 'collector's item' written all over it. Its status as a 70th Anniversary Limited Edition' is no joke; a previous fully-restored series entry Africa Screams sold out rather quickly."
TheDigitalBits.com sums up, "It's a stunning restoration by 3-D Film Archive's Bob Furmanek, Jack Theakston, and their dedicated team with a mountain of incredible bonus materials to go with it. Indeed, no stone is left unturned, and one can get absolutely stuffed on not just the history of the film itself, but on many other unrelated surprises. It's a bona fide treasure trove and an essential purchase for Abbott and Costello fans. In other words, highly recommended!"