The long-awaited Blu-ray of Abbott and Costello's second independent film, Africa Screams (1949), has been released, and it's an exemplary lesson to studios big and small (we're looking at you, Universal) on how to treat vintage product. By all accounts the painstaking restoration and eclectic extras (assiduously produced by Bob Furmanek and issued by ClassicFlix) have exceeded already high expectations.
The film was sourced from the original 35mm elements that Furmanek had located back in the 1980s for a then state of the art laser disc release. This year, those elements were scanned in 4K and meticulously cleaned and graded by the artisans at Furmanek's 3-D Film Archive. The result is a far cry from the muddy public domain videocassettes we once coveted. What had been the worst-
preserved and least seen A&C film now looks the best. Leonard Maltin calls it "beautifully restored" and "better than anyone could possibly imagine." Stuart Galbraith IV, at dvdtalk.com, thinks it "looks stupendous…as good as the very best B&W '40s titles on Blu-ray thus far." James L. Neibaur concurs, calling it "truly as good as any movie that has been released to Blu-ray." Matt Hartman at bluray.highdefdigest.com calls it "a modern miracle."
While Africa Screams doesn't rank among Abbott and Costello's best movies, it does have a lot going for it. For Bud and Lou, it was a self-indulgent lark. Thanks to the success of Abbott and Costello Meet Frankenstein earlier in the year, the boys commanded a higher salary and a bigger slice of the profits for this film than they did at Universal. They surrounded themselves with friends and family and reveled in practical jokes, including tossing a record number of pies between scenes. They also reprised a couple of surefire routines, including the one where Abbott dons an animal skin to help Lou look like a hero and, after the plan goes awry, "Bud's Lament," where he grieves for his little buddy.
Earlier in 1948 A&C had quarreled with Universal over the caliber of the supporting players in their films. Here, however, the boys gathered three unique duos for their cast: comedians Joe Besser and Shemp Howard, who they liked and respected; well-known wild animal experts Frank Buck and Clyde Beatty; and famed prizefighting brothers Max and Buddy Baer. (To show how far back Lou's relationship with Max went, Furmanek provides a 1940 newsreel where Costello interviews Baer just after Max beat "Two Ton" Tony Galento.) Hillary Brooke may have gotten the gig because she was represented by the same talent agency as Bud and Lou, but, like Besser, she went along with their antics so readily that she was later cast in their classic TV series. The producers also secured Hollywood's greatest "ape man," Charles Gemora, and gave him more to do in a film than anyone ever had before.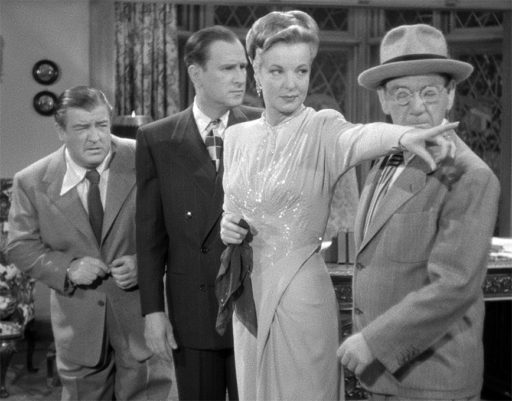 Producers Huntington Hartford and the Nassour brothers put maybe $600,000 into Africa Screams, and the three sets—an upscale department store, Diana's rambling house, and a dense jungle with a river—are better appreciated now in HD. Most of the special effects (which were delegated to experienced hands at Universal) also benefit from the exponential upgrade in picture quality. One effect, however, will never look good: that's when a group of natives turn white with fear. It's something out of bygone era and plainly racist. As Ron Palumbo's commentary points out, although important films examining race in America were appearing in the late 1940s, African natives were still fair game.
As Stuart Galbraith IV notes, "The restoration of Africa Screams all by itself would be desirable, but the avalanche of well-chosen extra features makes this one of the best releases of 2020 so far. A DVD Talk Collectors Series title."
Palumbo's commentary track, according to Glenn Erickson at trailersfromhell.com, "covers everything, from where the film's title came from, to every trick effect to every cast member, including the black actors playing the bearers and the Bangui tribe. We hear about boxing careers, A&C's studio contracts and Lou's health issues. Palumbo's smooth, professional delivery is something to be envied."
A gallery of behind-the-scenes photos and stills show the boys and the cast mugging around the set, splattered with pie, or actually working discussing a scene with director Barton. There's also a picture of Lou with his arm around 11-year old Max Baer, Jr., who's also dressed in a safari outfit.
The outtake reel has only a few line flubs by Hillary, Frank Buck and Bud; for the most part it is comprised of tail trims from scenes that made it into the movie but were photo-bombed at the last moment by the boys' court jester, Bobby Barber. The howls of laughter from the cast and crew give us some idea of how much fun this production must have been.
If you didn't get enough of Clyde Beatty's act in Africa Screams, a 1943 short, Clyde Beatty's Animal Thrills, is also included. It is marred by a couple of cheesy effects: footage of big cats is rocked forward and backward to heighten the drama, but it just looks fake, like the old Purina Cat Chow dancing cat commercials.
Africa Screams was originally planned to be shot in Cinecolor. To give us an idea of the color fidelity of the old two-strip color process, Furmanek provides the trailer for El Paso (which was also shot at Nassour Studios) and Abbott and Costello's own Jack and the Beanstalk, which was later shot in SuperCinecolor, a three-strip process. Africa Screams would have looked pretty good in either.
This restoration was made possible by a wildly successful Kickstarter campaign, whose 800 or so donors are acknowledged in a credit roll at film's end. As support increased, Furmanek kept adding bonus extras to the package. Perhaps most impressive is a restoration of the boys' "Rubdown" sketch from a kinescope of the 100th episode of the Colgate Comedy Hour. (The team also did this bit in the "Barber Lou" episode of the TV series.) AI software was used to frame-interpolate the 24fps kinescope back to its original 60fps smoothness and approximate what the broadcast looked like when it first aired live. It's terrific.
A complete Abbott and Costello 3-D comic book from the 1950s is reproduced, and may be viewed in Polaroid Blu-ray 3-D or with the anaglyphic red and cyan glasses provided in the package. Galbraith calls it "enormous, eye-popping fun, like five or six mini-movies put together, with very good 3-D effects."
Finally, there's an Abbott and Costello radio show from 1948 with guest star Bela Lugosi. (The boys were making what Costello refers to as "The Brain of Frankenstein" at the time.) At this point many radio programs were pre-recorded in front of a live audience and then edited for broadcast. Furmanek offers the entire uncut master recording, about 40 minutes long, featuring a riotous audience warm-up and the show with flubs and retakes intact.
All in all, this is a stunning package, with the restored film as the crown jewel. But its release is limited to just 2,500 copies. Get yours now.