Earlier this year, Bob Furmanek and his 3-D Film Archives team meticulously restored Africa Screams (1949) for a stunning, critically acclaimed Blu-ray release. Now they're turning their skills to another independent Abbott and Costello film, the 1952 SuperCinecolor production of Jack and the Beanstalk, for Blu-ray and DVD release.
Unlike Africa Screams, however, no original camera negatives or fine grain elements exist. The only surviving element is an archival 35mm SuperCinecolor positive print that will be scanned in 4K but will need more fine-tuning to bring out its best quality. This will include frame-by-frame digital clean-up of dirt and damage; flicker reduction; scene-to-scene color correction and audio sweetening.
Fortunately, Furmanek and his team have the expertise and technology to optimize Jack and the Beanstalk better than anyone else. Plus, the extras that Furmanek is planning—including the Jack and the Beanstalk children's record and a commentary track by Ron Palumbo—cannot be matched elsewhere. Other extras include the original 35mm trailer; a deleted scenes photo gallery; posters, press book and lobby cards gallery; behind-the-scenes production photographs; a look at the complex Cinecolor process by film historian Jack Theakston; and restored trailer for Abbott and Costello Meet Captain Kidd.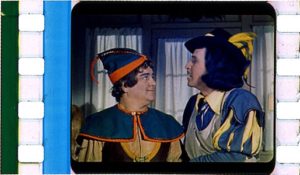 As with Africa Screams, Furmanek is enlisting the help of fans through a Kickstarter campaign which has already tripled its $7500 goal. Every pledge of $25 and higher will ensure that your name is listed on-screen in the post-feature Restoration credits. As a special bonus for collectors, a pledge of $100 or more gets you a 35mm frame (aka film cell) of Bud and Lou taken from an original SuperCinecolor print. This is an actual piece of the film that was shown in theaters when Jack and the Beanstalk was first released in 1952. For a pledge of $200 and higher, you will also get an original 35mm SuperCinecolor frame from the coming attraction trailer for Abbott and Costello Meet Captain Kidd. This special scene features unique footage of Bud and Lou speaking to camera about their new movie.
There are many sub-par public domain DVDs in circulation, and another Jack and the Beanstalk Blu-ray was released by VCI. We, however, will wait for the definitive  Furmanek/3-D Film Archives version, which is targeted for release in time for the 70th anniversary of the film's production in July 2021.•