Sepia Records, an independent label based in England, has released a unique double CD of vocal performances by the Andrews Sisters from the trio's movie appearances, including all of the actual recordings made for and used in the 1941 Abbott and Costello films Buck Privates, In The Navy, and Hold That Ghost.
Bryan Cooper, a Los A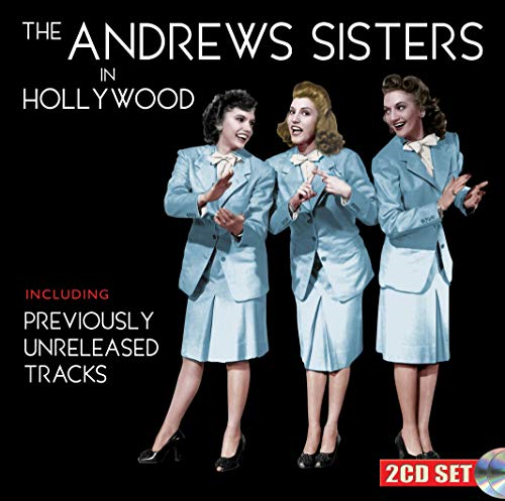 ngeles-based expert on and collector of vintage twentieth-century popular music, spent over two years tracking down shellac and lacquer discs in the hands of private collectors around the world. Universal distributed hundreds of copies of these discs to movie theaters and radio stations for publicity purposes, and as gifts to performers and musicians. The recordings were unavailable from Universal itself, which suffered the catastrophic destruction of its sound recording archives in a 2008 fire.
The Andrews Sisters' Universal performances, recorded just before each film went into production, display a much bigger sound than the trio's familiar Decca releases. Universal supported the girls with a full scale orchestra; recorded them on the studio scoring stage with superior acoustics; placed multiple microphones around the orchestra to pick up as many instruments as possible; gave Patty, Maxine and LaVerne separate microphones; and provided them with a full team of engineers. In marked contrast, the Andrews Sisters' Decca tracks were recorded in a much smaller room, with only one or two microphones, a single engineer, and Vic Schoen's 8-10 piece band.
Sepia's CD set, which comes with an excellent booklet covering the Andrews Sister's movie careers, is highly recommended to fan club members who enjoy the girls' sound even apart from their work with Abbott and Costello.