Abbott and Costello were about to make their eighth consecutive appearance on the Kate Smith radio program when they claimed they had run out of material. It was a gambit. They had lobbied for weeks to do their "Baseball" routine, but Kate's producer and manager, Ted Collins, didn't think it was funny. Worse, Collins thought they'd be committing career suicide if they tried it on radio. Had he seen them do it in front of a live audience, as they had for at least a year, instead of the isolation of his office, he would have insisted that they do it on their very first show.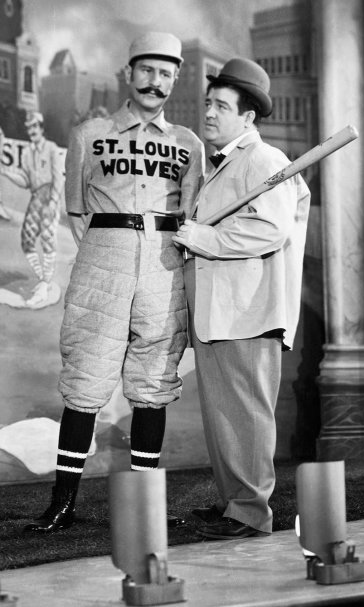 Backed into a corner, and reluctant to let the team skip a week, Collins relented and let them do "Who's On First?" on the March 24, 1938 broadcast. It cemented their roles as regulars on the show and brought the routine—and the team–into the national consciousness.
As discussed on this site's "Who's On First?" page, the sketch had it roots in numerous old wordplay routines such as "Watt Street," "Nobody Paid You," and, most significantly, "Who's the Boss." Bud even did a baseball version years before he teamed with Lou, but when Costello tried it with a previous partner at Minsky's, the show's producer tossed it out of the show. It was Costello's belief in the sketch that spurred he and Abbott to hone and expand the dialogue into the masterpiece we know today.
Publicity agents claimed that Abbott and Costello performed "Who's On First?" about 15,000 times during their partnership. That would average two performances per day, every day, for 21 years. Clearly this was an exaggeration. Still, Bud and Lou probably did the routine several hundred times. It has also been said that they never performed it the same way twice but this, too, is an overstatement. There are subtle differences between versions, usually because the boys themselves became mixed up, but the routine always follows a definite structure.
The routine was inducted into the National Baseball Hall of Fame in Cooperstown in 1956 and Time magazine proclaimed it the "Best Comedy Sketch of the 20th Century" in 1999. The Greater Los Angeles Press Club, with great foresight, declared the exact same thing almost fifty years earlier. An early radio performance from the October 6, 1938 Kate Smith Show was placed in the Library of Congress' National Recording Archives in 2003.
The March 24, 1938 show has not been found.